GIVING
ONLINE GIVING
Whether you'd like to give a single gift, schedule ongoing donations or view your giving history, you can do it all online. It's quick, easy, and secure. With our new, enhanced service you can give by using your checking account, debit or credit card (that you pay off each month!), whichever is most convenient. These safe and flexible options are easiest ways to give to Heartland Church. Thank you for your support!
There are two giving options:
GIVE NOW
with your Debit or Credit Card. NEW! We're now able to accept American Express for giving! It's quick and easy with no registration or log-in required.
LOG IN TO GIVE
Log into @Heartland, our secure online community to access a full range of features including, scheduling ongoing giving, view your giving history, print contribution receipts, or give using your checking account, debit or credit card. NEW! We're now able to accept American Express for giving! @Heartland registration is fast, simple and secure. If you've not created your @Heartland user account, sign up here.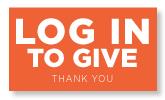 GIVING STATEMENTS
Thank you for your continued support of Heartland Church! To print a summary of your giving, you will need to login to CCB by clicking on the "Log In To Give" button above. Once you've logged in, do the following:

• Click 'Give' at the top right of your screen
• Click 'My Giving Statement' on the right hand side of the page
• Choose 'Individual' or 'Family'
• Choose 'Last Year' from the quick date pulldown menu
• Select 'Deductible Only'
• Click 'Create'
• A giving statement will open for you. We recommend you print this for your records.

For questions or assistance with giving statements, please contact us.
WEEKEND WORSHIP EXPERIENCES
Place your check or cash in the offering boxes located at the back of each auditorium before or after any of our weekend worship experiences. For your convenience, giving envelopes are available on each offering box, and are also included with your weekend program. The envelopes are also addressed for your convenience for you to mail to Heartland Church.
AUTOMATIC BANK PAY
Automatic Bank Pay is an easy and effective way to systematically give through your checking or savings account. Simply log onto your individual bank account and follow your bank's instructions to set up Heartland Church as a new payee.
ASSETS
If you have stocks, bonds, precious metals, vehicles or any other assets that your would like to donate to Heartland Church, please email the Heartland Church Finance Office.
If you have any questions concerning ways to give, please call the Heartland Church Office at (317) 842-5500 or contact us.