COVID-19 RESPONSE UPDATE
Thursday, February 4, 2021
"People can protect themselves from the virus that causes COVID-19 by staying at least 6 feet away from others, wearing a mask that covers their nose and mouth, washing their hands frequently, cleaning touched surfaces often and staying home when sick." –The Center for Disease Control (CDC)
Q: I'm concerned about indoor or enclosed environments with poor ventilation. What measures have been taken to mitigate risk of exposure to the virus?
A: Your health and safety are our top priority! We are committed to the safest in-person experience we can provide. In consultation with our City Health Department, Medical Professionals and our Board of Overseers, the following actions have been put in place to minimize risk of infection.
Air Circulation and Filtration
In our new Fishers Campus, as part of the building construction, we installed a state-of-the-art needlepoint bipolar ionization filtration system (which means it filtrates very small molecules). In addition, the Board of Overseers approved the retrofit the 96th street Campus Building to add the same system. The airflow, circulation and filtration is on par with the best technology available anywhere.
Seating Capacity
We have limited capacity for all environments at any service time to target a 50% maximum capacity. We have extra spacing between rows, and some seating is every other row. Two empty seats will be maintained between others not of your household.
Masks & Face Coverings
A mask or face covering with a filter layer must be worn in all common areas inside the building. Face coverings may be removed once you are seated. This "restaurant-style" practice is in compliance by our health department so long as other social distancing requirements are in effect.
To further address this concern for those at higher risk, we have set aside an entire section and secondary environment where masks must be worn 100% of the time. Those who wish to be in an area where masks are required can and will be accommodated.
Social Distancing
Respect for common social distancing protocols are expected. In our new Fishers Campus, the common areas and auditorium ceiling heights are in excess of 30 feet. The lobby is enormous and crowding will not be an issue. There are also 900 parking spaces and 15 different entrances. Anyone will easily be able to maintain a safe distance from others.
Cleaning & Sanitizing
We have increased cleaning team capacity to clean the building between services. Surfaces, railings and door handles are regularly sanitized.
It is our commitment to meet you where you are!
If you feel uncomfortable coming to in-person services at this time, we are committed to coming to you via an ever-increasing-in-quality online experience at the following times at Heartlandchurch.tv, Facebook, YouTube, Roku/AppleTV (download the Boxcast App and search for Heartland Church)
Sunday: 9:00 am, 11:00am (LIVE)
Sunday: 1:00 pm, 3:00 pm, 5:00 pm, 7:00 pm, 9:00 pm (Rebroadcast)
Mon-Sat: 3:00 pm, 5:00 pm, 7:00 pm (Rebroadcast)
Services are also on-demand on our YouTube Channel or Heartlandchurch.com shortly following the LIVE broadcasts.
Q: It seems from watching online that there are a lot of people attending services? Is it overcrowded?
Video tends to "flatten" the appearance of distance, which may be experienced while watching online. However, we are and will continue to follow all aforementioned best practices in all our environments: We will add services to increase capacity as it becomes necessary.
RESOURCES FOR FAMILIES
---
We're here for our community
Together with 16 other Indy-area churches we provided 200,000 N-95 masks to local hospitals, first responders and healthcare workers! This exciting development was in partnership with Launch Fishers. To all of the healthcare workers in our church family, we love you and appreciate your sacrifice and service!
We've also given financial support to Meals on Wheels and the Good Samaritan Network of Hamilton County.
If you'd like to give to Heartland's coronavirus emergency response fund, select "Emergency Relief" when you give online.

---
WE'RE HERE FOR YOU
Even though we're physically distant, spiritually we're still connected! If you need prayer or pastoral care, please contact and a member of our team will be in touch with you shortly. Whether you're vulnerable, sick or in need due to school or business closures, we are here to serve you. Click below to let us know what you need.
Seek Daily Encouragement
Follow along with Pastor Darryn and Heartland Church on Facebook and Instagram as we encourage you and keep you up-to-date.
On the spiritual side, our job is what it always is—to follow God, trusting in His love and care. Jesus promised that He is with us in the midst of trouble. If we trust in God, focusing on His promises, our anxiety levels will go down, even in the midst of uncertainty:


Psalm 37:23: The LORD directs the steps of the godly. He delights in every detail of their lives.
Psalm 34:7: The angel of the LORD encamps around those who fear Him, and He delivers them.
Luke 12:25-26: Who of you by worrying can add a single hour to your life? Since you cannot do this very little thing, why do you worry about the rest?
John 14:27: Peace I leave with you; My peace I give you. I do not give to you as the world gives. Do not let your hearts be troubled and do not be afraid.
Actively Pray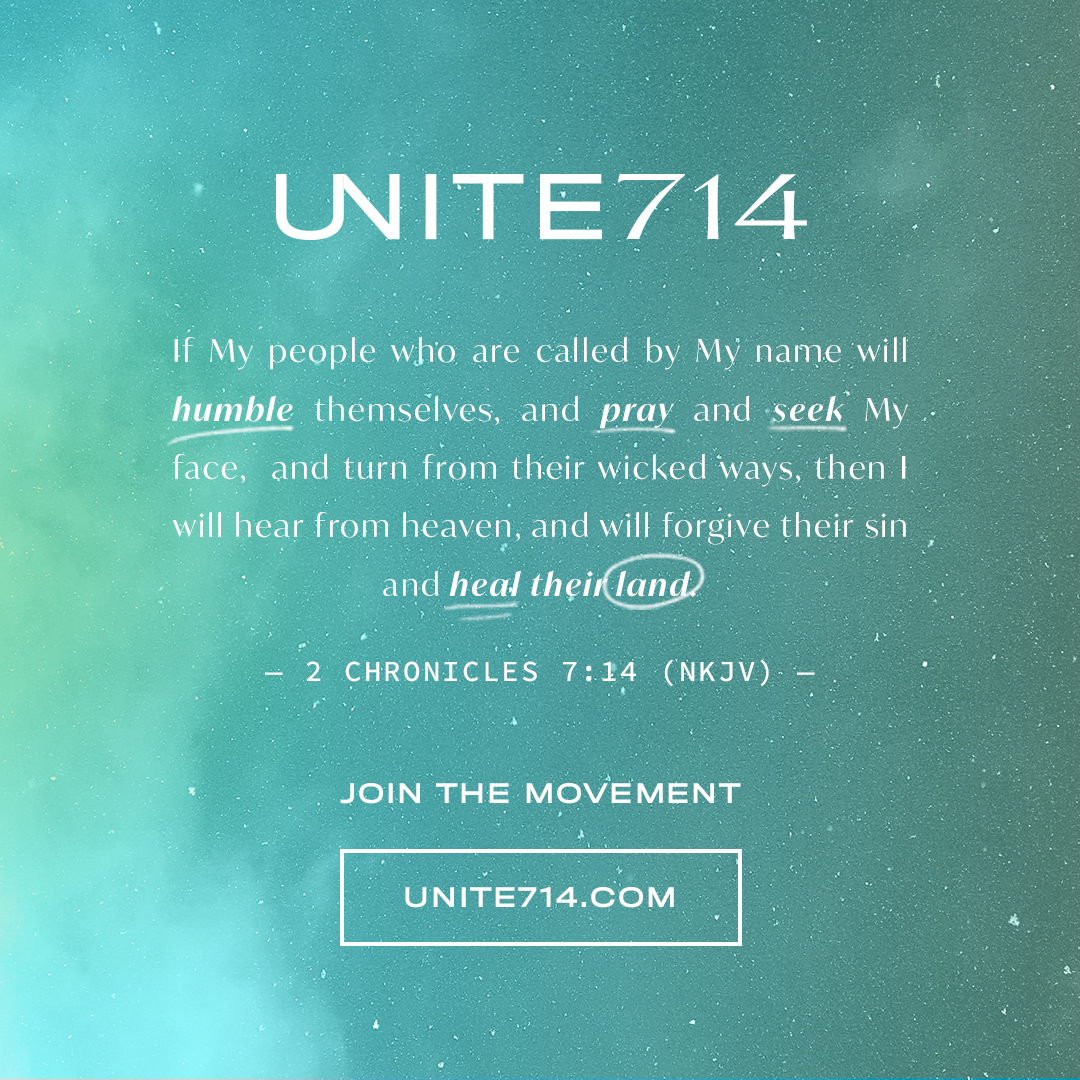 Join us as we participate in the Unite714 movement with thousands of other churches to pray for a miraculous healing of our lands from the coronavirus and a spiritual awakening among the nations. Twice a day at 7:14, we'll pray 2 Chronicles 7:14, "If my people who are called by my name will humble themselves and pray and seek my face and turn from their wicked ways, then I will hear from heaven, and forgive their sin and heal their land." Set an alarm and join us tonight or tomorrow at 7:14!
Need prayer? We also have a prayer team available to pray for you during this time. Share your requests with us below!
Love Your Neighbor
We've been BLOWN AWAY by the number of people who've reached out to us and want to help. If you want to volunteer for opportunities as they arise, please contact . There are also plenty of ways you can love people well while maintaining social distance.
Here are a few ideas:
Write and send a note or call a family, friend or neighbor who are not able to venture out yet, especially those over the age of 60 or who are immunocompromised.
Leverage your social media to support your community and to spread the message of hope we have in Jesus.
Be generous to your servers at the drive-thru/delivery service, and others whose income is being impacted by business closures.
Thank you for being the church!
Find Community in Small Groups
Let's stand in unity that this virus is not going to stop us from fulfilling our purpose to live in community with one another – in person or not! Life happens between Sundays, and the enemy would love nothing more than to have people step away from community. We want to help you get creative in how you continue to connect with your Small Group in this time. Check out the Small Group's page for options to host or catch up with your Small Group virtually.
Stay Healthy and Informed
In a crisis like this, it's common for misinformation to spread, and it can be challenging to figure out who and what to trust. Here are some reliable resources that can connect you with accurate and helpful info.
The Centers for Disease Control and Prevention (CDC)
World Health Organization (WHO)